Alan at Idablue
caught
that the Idaho Statesman has republished the Moscow-Pullman Daily News' article about Drinking Liberally. If you missed it the first time around (the DN requires you to subscribe to read its articles) you can check it out here. An exccerpt:
"We are open to a variety of perspectives. We may or may not agree, but we still get the back and forth," Anderson said.

Van Zeipel said the rules of the Drinking Liberally don't allow anyone to make a presentation at the meetings.

"This is a neutral meeting place for liberals, and we never endorse anything," he said. "The point of Drinking Liberally is seriously to drink and hang out," van Zeipel said. "Who drinks conservatively?"
Also, here's one of the photos by Roger Ames of the Daily News that ran with the article - but somehow was omitted by the Idaho Statesman. So the world doesn't have to suffer missing out on my beautiful face, here it is. It's me, my husband, and Vander of
Thoughts from Idaho
's ear.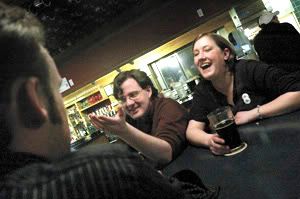 To quote Molly Ivins, "It's a little known fact that defending civil liberties can be a whale of a lot of fun, requiring only beer, imagination, and a mild disrespect for authority." If you want more info about the Moscow chapter of Drinking Liberally, you can see the
myspace group
or the
forum
.
Cheers!